Alayna finally had her dad pull her snaggle tooth. Had I thought it would stick around so long She could have been Nanny McPhee for Halloween and then it even hung on til last saturday. She said it was time because of the boy she saw that had his big tooth growing in and the baby tooth still hanging. She didn't want that to happen to her. Alayna asked Ashtyn to write a note to the tooth fairy.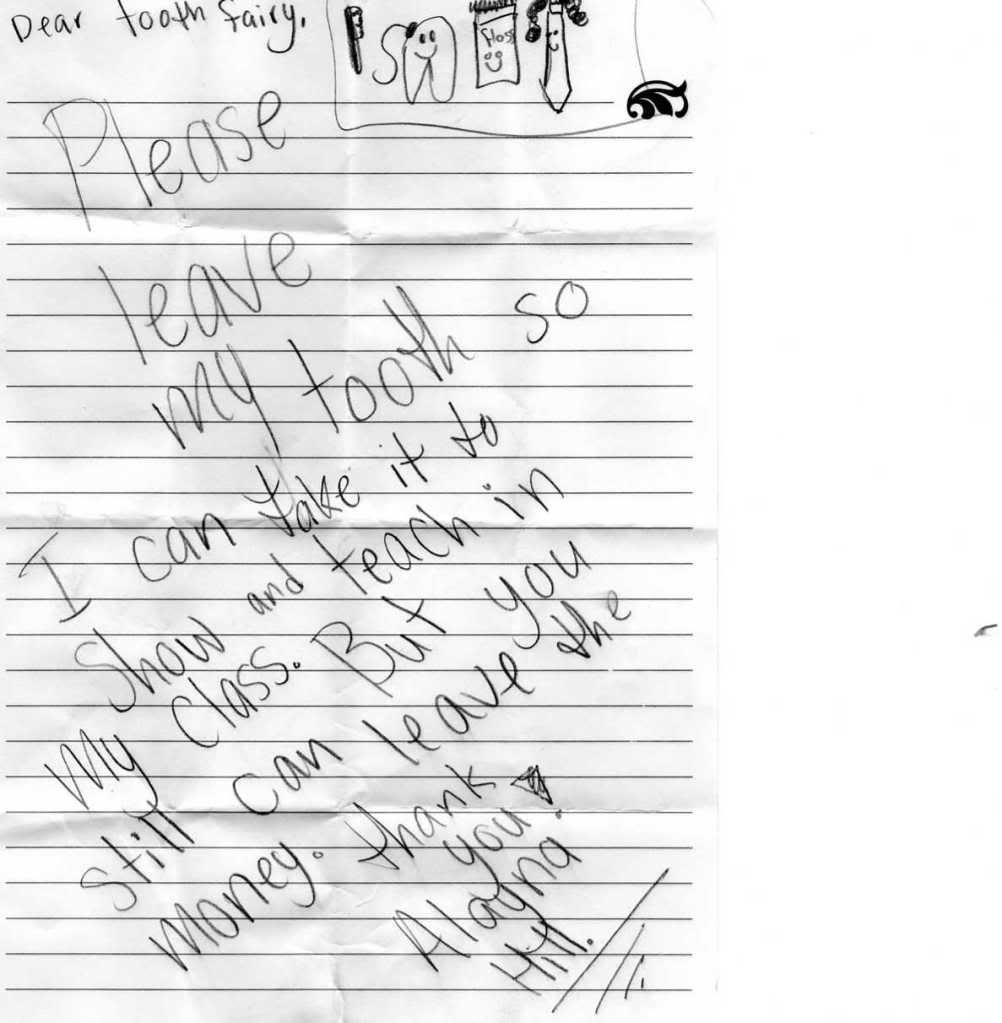 It worked! The tooth fairy left her tooth so she could take it for 'Show & Teach'.
She was so excited the tooth fairy listened. She asked Jay pull her other front tooth. Then spent the rest of the day writing this letter and making the tooth fairy a home.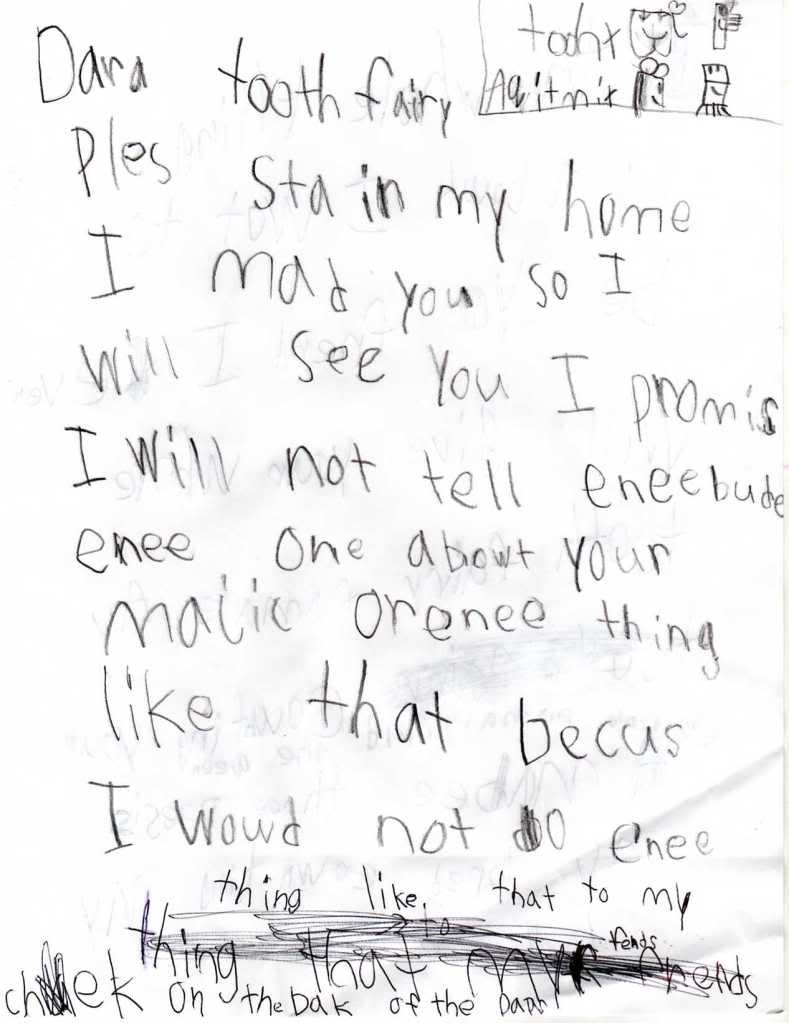 (Note the tooth equipment at the top.)
Dear tooth fairy, please stay in my home I made for you so I will see you. I promise I will not tell anybody, anyone about your magic or any thing like that because I would not do any thing like that to my friends. Check on the back of the paper.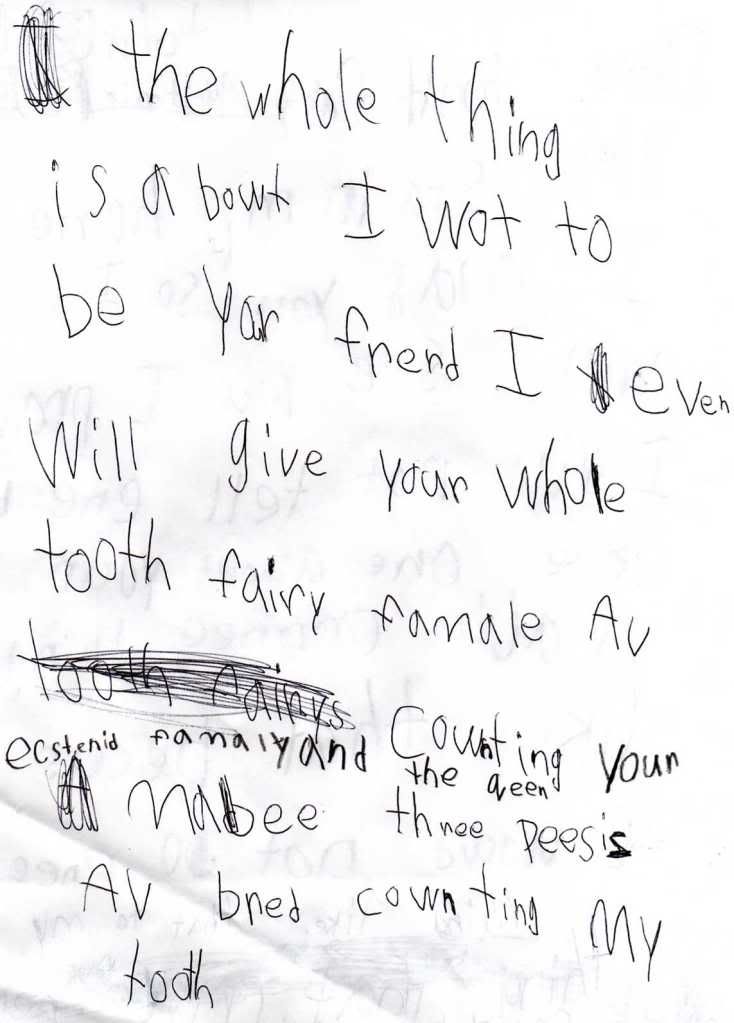 The whole thing is about, I want to be your friend. I even will give your whole tooth fairy family of extended family counting the queen, maybe three pieces of bread. Counting my tooth.
(When I asked about the bread she told me that they grind bones to make bread and a tooth is a bone?? Duh? I guess?)
She had another little note promising to "ceep my dog owt" and directing the fairy to the jewelry box for safety and protection.
It was so obvious when she was showing me everything in the house how excited she was for this fairy friendship. The house included a tv, dining set with a little cake, a bed, a play area with a teeter toter and more. She showed me how she was going to play on the teeter toter with her. She asked if I had wanted to be friends with the tooth fairy when I was little. I could tell her little mind was going a million miles an hour dreaming all things fairy.
The tooth fairy left her this itty bitty note. It is addressed to Alayna, you just can't see it in the picture.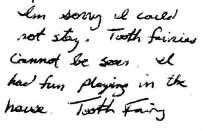 (

He

must be a darn cute tooth fairy, wink wink)