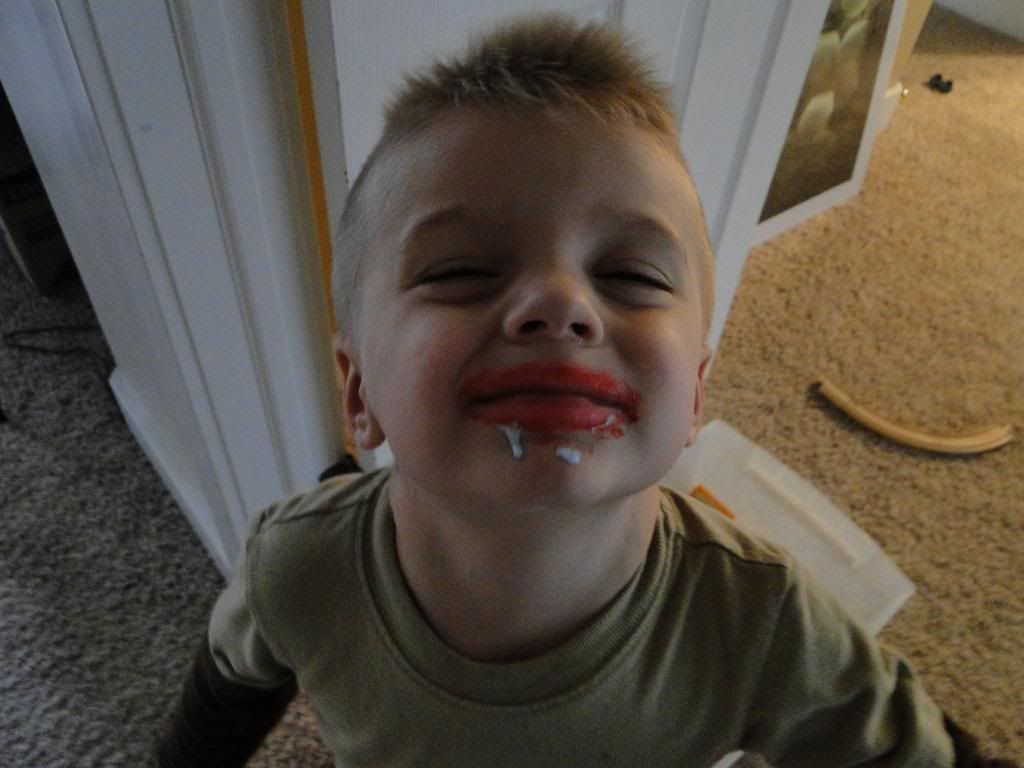 You know when you have one of 'those' days.
This morning was one of those days.
I help in Alayna's classroom wednesday mornings
changing out AR/bob books
and taking the kids to test them in the library.
I was a little nervous to take on what seemed to be a big commitment but
I have loved being in Alayna's class and
getting a feel for her friends and teacher.
I was
very
specific when I was asked to help that I would have to bring my very loud, very active 3 year old who doesn't sit still. I was told oh that is no problem, we have siblings all the time. I told her Jacob is not like other siblings and he might be disruptive but I would try my best to keep him under control.
Each week Jacob and I talk about what is expected of him and how to behave in Teacher's classroom. Then we pack a back pack with a pop tart and a few trains or trucks.
This week we brought along this little set.
Within minutes of arriving in the classroom I could tell Teacher was not in a good mood. Every few seconds "FIRST GRADERS! You are too noisy!" Bark after bark. They hadn't been in class 30 minutes and she had one little gal pulling her 3rd (of 4) cards. I was getting a little irked. You couldn't hear a pin drop, but it was not much more than breathing and a whisper here and there.
Side note: Talking to another parent at the first grade homework night she said her husband really liked Teacher's energy and maybe they should have had their daughter in Teacher's class. I told her that it was interesting because I had been thinking how she is so different(meaning enthusiastic, fun, happy, smiling) tonight with the parents than what I see in class (the 45 minutes I am there once a week)
As I was sorting books and folders getting ready to leave Jacob let out a couple "choo choos". She let me know that was definitely not acceptable today. Neither was touching the chart stand.
Teacher had told me previously I could leave him in the classroom while I went to the library. But I knew today was not the day to leave him there. So to the library we went with his trains. As I start testing (1st graders need the tests read to them) I turned my back and Jacob slipped out and went back to class. I prayed he would be quiet. Not minutes later Jacob shows up in the library with the look of "I'm in trouble" so I made him sit on the chair next to me. He was upset then cried through the last 2 testers. Frustrated I went back to class to record scores and switch out books. He couldn't find his train set. I suspected Teacher had taken it away. I had Jacob look at books while I finished up. I didn't want to bother Teacher while she was working with a student, so I quietly asked Alayna if she knew where the train was. Her neighbor said Teacher B had it. Surprised, we left and went to Teacher B. She said Teacher and Jacob were
'fighting'
and '
yelling'
over it so Teacher B had to step in. She took Jacob to the Library and kept the toy.
MORTIFIED! EMBARRASSED!

Really? Yelling? I apologized.
Teacher B was understanding and reminded me Teacher has no kids.
But still... I left and the tears came unstoppably by the time I got to the sidewalk. Why didn't Teacher say anything? Why didn't she pull me aside and say Jacob was too noisy with his toy so Teacher B took it? Why didn't she say it was ok to bring him when I am feeling it's not? Why did she get upset when a 6 year was playing(quietly fidgeting) with her bracelet? Seriously lighten up! Why did she choose 1st grade? Why was she so ornery today? Why did I agree to do the testing when I knew I would have to bring Jacob?


I wasn't sure if I was crying because I was embarrassed or if it was because I was mad. (Mostly likely it was because I haven't slept for 3 nights with this stupid head cold).
As I watched Jacob run to the car zigzagging and around in circles I asked do I really want to bridle Jacob's energy? Yes some days, but no not really. I love his energy and love for life. I don't want him to be docile, complacent or resigned. He is going to want to touch everything and see what is in every box. Because he is 3!

Then my mind started really going. Worrying about Alayna and the negativity in the classroom. I have felt it before but today was especially negative from the minute I walked in. I don't want that be Alayna's environment for 7.5 hours a day. I have to remind myself she is a resilient and bright little girl who really doesn't allow
anyone
to make up her mind..So I am not too worried, but still
so
bugged.


Now a request for advice....
Parent Teacher Conferences are tomorrow.
Do I bring this up?
Am I being too sensitive?




This is Jacob....Now you see him....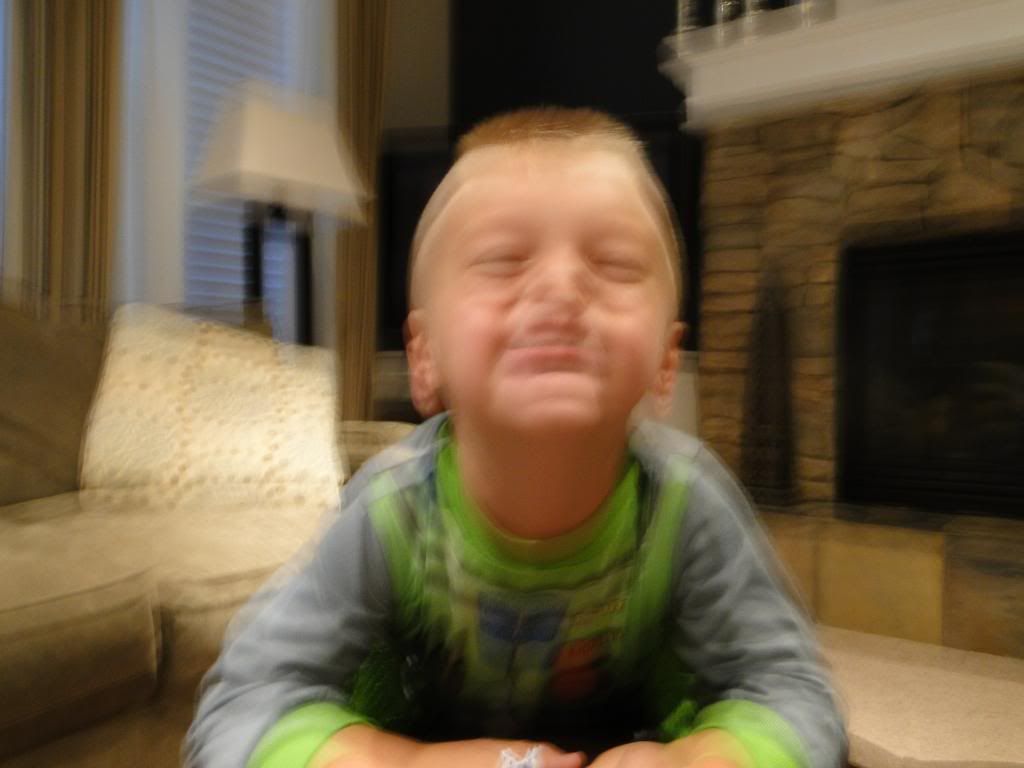 Now you don't. He is fast huh?